Opening comments and news from James
YES LIVE Show tonight.
---
Long-Time F2F listener and researcher, Jim French need our help!
http://www.microgiving.com/cause/from-homelessness-to-hope
---
Thanks to A1 Decals for the text for my truck!
---
---
Studio Repairs/Upgardes
I do have the new board! It is perfect and good quality in like new condition. And I got it at a great price! It is the Allen & Heath WZ20s.
I also have the sound absorbing foam from Next Acoustics.
And I expanded my Carver Hi-Fi stereo to a to a 5.1 system by adding a Carver AV-63 (3 channel amp), repairing my other 2 Ohm Speakers for a total of 4 and adding a Center Channel, and again for a great price!
All I need to do it unplug and unstack EVERYTHING and reassemble it in a smarter way. Weeded out old stuff along the way.
Here is a chronicle of the history of building this studio. LINK I will have to update it after this.
---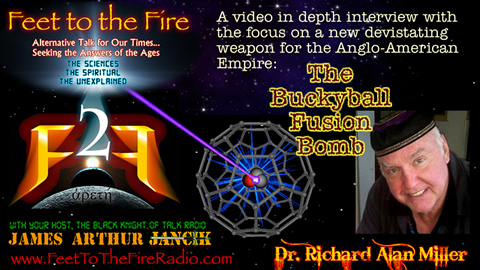 https://www.youtube.com/watch?v=SUKr1B7tlcI
Also, here is the downloadble data zip with documents from the discussion.
UPDATE: www.phys.org just posted:
http://phys.org/news/2015-03-buckybomb-potential-power-nanoscale-explosives.html
Also new PDF by Dr. Richard Alan Miller on the Buckeyball Bomb HERE
---
I did record a new interview Saturday, Nov 22 2014 with Historian and Author, Robert C. Valentine on a special triangulation of prophetic events that put us in the "End Times" like no other theory I have heard. I hope to have it for the radio in a week or two, (listen to the Dec 18th 2005 show Part 1 & Part 2 on his earlier version of the book, Alert for the Times: The Book of Secrets) and perhaps YouTube Video...