Opening comments and news from James
YES LIVE Show tonight.
It should also be a live video cast via Livstream. When Live, click the LISTEN LIVE button for audio/video options. Smart phones and Tablets can use the MOBILE LISTEN LINK.
You can also listen to past Livestream F2F Shows/Segments on an "On-Demand" basis as they keep them availible for a few weeks:
http://original.livestream.com/feettothefire
I have also started (years too late, no doubt, lol) a F2F Facebook Page. Will try and focus F2F stuff there. Please take the time to Like the page , if you like the show. :-)
https://www.facebook.com/FeetToTheFireRadio
---
The F2F listening app for the Android Platform is Missing
Well, I guess it is my fault. But I wanna bring Google under the bus with me on this one. Apparently, there has been a change in the User's Agreement for App Developers. And one needed to sign the new terms before certain date. I was unaware of this until AFTER that date and the F2F App was pulled. And when this happens, sometimes, the apps are pulled back from one's Android device automatically. I am not working to re-submit it.
I will post the updated link soon. If your device still has it, it should still work.
One way you can create your "own" F2F App is to use your device to move to this link:
http://innersites.com/feet2fire/mobile.htm
Then there may be an option to "Save to your Home Screen" or something to that effect
---
I receive many emails each day with info from potential guest, listeners and various new aggregators. While it is a daunting task at times to comb trough it all, I am grateful for stream of info. I simply do not have much time for my own perusing.
I thought I would share a couple of info stream you might be interested in joining. As I have said many times before, I may not endorse the general paradigm any info source I may use for data, but, there is useful into everywhere; sometimes in spite of the surrounding environment. It is our mistake to though out the baby with our disagreement with that "bath water" so to speak.
-----
You might wanna sign on to Sheldon Day's mailing list. Sheldon is the former host of "The Light of Day" and a strong Planet X supporter. But I have found many of the stories he passes along interesting, even if I disagree with the Planet X premise.
As I have presented in my You Tube Video, "Feet to the Fire Radio 02/23/14 James talking on Planet X, Godzilla, Jesus and More"
https://www.youtube.com/watch?v=zTm6Q-rj9-4
Your intuition works within one's paradigm package. So one's conclusion might me off, but the trouble your picking up is right on.
http://thelightofdayradioshow.com/ and scroll down to the yellow sign-up box.
-----
This next mailing list is from a listener named "Char". HE has worked in the Hollywood movie industry, and has seen things first hand. He also spends gobs of time searching the internet for stories of interest. HE himself does not vouch for these truthfulness; even usefulness. But they are interesting none-the-less.
He will be sending me some type of "sign-up" links, as his "list" is more of a manually created one, and I do not wanna simple give out his email. I will post it here when I get it.
LINK TO COME SOON
---
Long-Time F2F listener and researcher, Jim French need our help!
Time is running out for this project! Please consider helping him reach his goal.
http://www.microgiving.com/cause/from-homelessness-to-hope
---
Frank Joseph will be speaking at Metaphysical-Ancient Discoveries Symposium in Grabill, IN just NW of Indianapolis: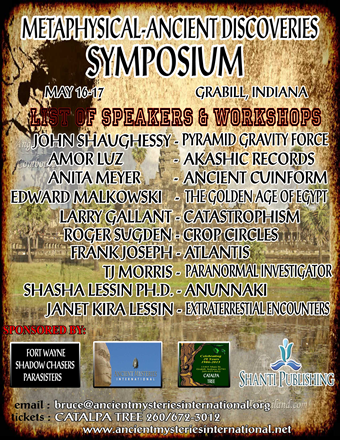 http://www.ancientmysteriesinternational.net/