Opening comments and news from James
Short Live Show Tonight
I have to leave town very, VERY early Monday morning. :-(
My brother is having "minor" brain surgery Monday Morning, and please take a minute to listen and join in sending healing vibes.
I did record a new interview Saturday, Nov 22 2014 with Historian and Author, Robert C. Valentine on a special triangulation of prophetic events that put us in the "End Times" like no other theory I have heard. I hope to have it for the radio in a week or two, (listen to the Dec 18th 2005 show Part 1 & Part 2 on his earlier version of the book, Alert for the Times: The Book of Secrets) and perhaps YouTube Video...
... if I EVER finish the marathon production tasks of the latest Rich Miller Interview Video. I have had to have Richard back to add more comments (about 45 mins worth!) then was broadcast on the October 12th 2014 Radio Show to further discussing things I found on the post-production research. The information contained therein is legion!
---
I personally filmed amazing 100% covergage of Geo Engineering trails in Wilmingtonm IL that was sickening as it was breathtaking...
---
F2F Contest Picture. First one to name all the faces of past guests on Feet to the Fire over the last 11+ years in this pic blow will win a $100 gift card. If no one names them all, the one who names the most with win a $75 card. All were guests, and some are no longer alive.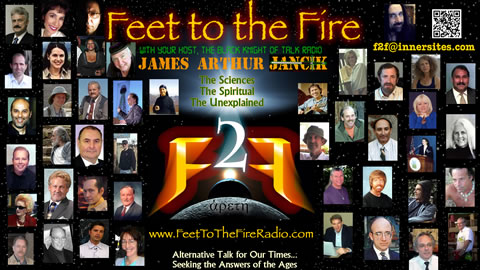 Click on the Picture for a larger version. Please, no facial recognition software :P