Les Visible - Socio-Political-Metaphysical Comentary
Les Visible is a writer and recording artist. He has had a lifelong love affair with the Hermetic Sciences and the Martial Arts. He is a seasoned traveler in psychedelic realms and prefers the Devic Kingdom over the suffocating confinements of the Sub-Matrix. Along the way he has matriculated from the military to prisons and the maximum security wards for the criminally insane. Each month. Les will share a passionate slice of his kaleidoscope of consciousness. He lives in various places in Europe with his wife Susanne and his memories.
http://smokingmirrors.blogspot.com/
Listen to Les' past F2F segments HERE
An Attempt/Experiment In Group/Distant Healing/Energy
James will take a name from email each week, and work with listeners to send energy to the person for their self-healing. Please think of this person this week, and visualize sending healing, love, energy.
This Week's Focus: Edward (Throat Cancer)
Hello James,
Thank you for your reply.
The person I am talking about, Edward, is part of a community, so when I told people who know Edward that someone like you is offering healing meditation, I received immediate interest and appreciation. I described how you hold the space, give it a certain tone and perspective, and then how your listening audience also participates to form a much larger community, focused on love and healing. I can tell you that you will have an addition to your audience this Sunday, all part of the community that know Edward Buttersworth.
I first came to know Edward while playing table tennis with and against him. As a player, he is brilliant, and while I am fifty six years old, he is some twenty years older, and I have immense difficulty beating him. He has lightening speed reflexes, high strategic intellligence, given that he is a retired engineer, and shows no mercy on the table. Yet at the same time, he combines his high intelligence with a deep compassion, and is one of the most gentle people I know.
He is suffering from throat cancer and is going under surgery on Monday to have it removed. Those of us who know Edward, and those of us who play table tennis with and against him, feel that he has a few more years of brilliant play left yet. We look forward to more of Edward's spirit and energy.
Thank you so much James,
John Beder
Vancouver Island, Canada

Download this weeks segment alone to share with others! (D/L MP3)
(If your browser has trouble with direct linked MP3's. Try THIS LINK)
Music for Healing Segment: Liquid Mind - Ambience Minimus - Zero Degrees Zero (www.liquidmindmusic.com)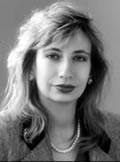 Rev. Pauline Southard -Astrologer, Healer, Energy Worker
Author: The Essiential Guide to Astrology Full Bio: Link
As a child, I fell in love with the stars and the magic of the night sky. I spent many nights as a young girl peering through my telescope in awe of the wonders I beheld. I felt that there was a missing piece in the astronomy I was learning with its emphasis on numbers and theories. The mystery was missing and there was no mention of the connection between the universal and the personal. When I discovered metaphysics and specifically astrology at the age of 30, it was as though the light came on for me and started the most amazing journey of my life. I studied astrology, tarot, channeling, and sat in unfoldment circles with many wonderful teachers. I soon began to read professionally for clients. I knew immediately that this was what I was born to do! My reading style is totally unique and has evolved over the years. My readings can include astrology, tarot, mediumship, channeling of spirit guides, mediumship and psychic information. My primary goal is to obtain the information that my clients need at that moment in time. -Pauline Southard
Pauline has appeared many times on Feet to the Fire dateing back to 2003 doing on air live astological reading to answering deep questions about out relationship to the stars. She now joins F2F four times a year to discuss the aspects of the 4 solstice points, Spring, Summer, Fall and Winter, and what they may clue in for the near future.

Frank Joseph -Author, Ancient World Researcher
Book: Atlantis and 2012
Frank Joseph was the editor in chief of Ancient American magazine from 1993 until 2009. He is the author of Advanced Civilizations of Prehistoric America, The Destruction of Atlantis, The Lost Civilization of Lemuria, Survivors of Atlantis, and The Lost Treasure of King Juba. He lives in Minnesota.
Atlantis and 2012 Traces Maya astronomy back to Atlantis

• Shows that the Mayan Calendar was brought to Mexico by survivors of Atlantis

• Correlates scientific studies with the Mayan Calendar to reveal that 2012 could be the start of a new ice age

• Reveals the link between Atlantis and Lemuria discovered by Edgar Cayce

Based on more than 25 years of research around the globe and statements from Edgar Cayce about Atlantis and its Pacific sister civilization of Lemuria, Frank Joseph reveals that the Mayan Calendar was brought to Mexico by survivors of Atlantis. Uncovering the Atlantean influences in both ancient Mesoamerican culture and ancient Egyptian culture, he links the demise of Atlantis with the birth of the Olmec civilization in Mexico (the progenitors of the Maya), the beginning of the first Egyptian dynasty, and the start of the Mayan Calendar.

Joseph explains that the Mayan Calendar was invented by the combined genius of Atlantis and Lemuria and describes how it predicts an eternal cycle of global creation, destruction, and renewal. Correlating this recurring cycle with scientific studies on glacial ice cores and predictions from the Hopi, the Incas, and the Scandinavian Norse, Joseph reveals that 2012 could be the start of a new ice age and the advent of a massive solar storm. However, Joseph shows that the Maya knew the way to reestablish civilization's cosmic balance before time runs out.
http://store.innertraditions.com/Contributor.jmdx?action=displayDetail&id=18