An Attempt/Experiment In Group/Distant Healing/Energy
James will take a name from email each week, and work with listeners to send energy to the person for their self-healing. Please think of this person this week, and visualize sending healing, love, energy.
This Week's Focus: Several People
Download this weeks segment alone to share with others! (D/L MP3)
(If your browser has trouble with direct linked MP3's. Try THIS LINK)
Music for Healing Segment: Liquid Mind - Ambience Minimus - Zero Degrees Zero (www.liquidmindmusic.com)
Bill Birnes World of UFO Investigation!
Each month we will talk to Investigator, Bill Birnes about what goodies await us in the latest UFO Magazine and the History Channel series: UFO Hunters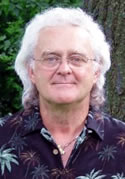 Jack Allis -Author
BOOK: "Infinity's Flower - A Tale of 2012 & The Great Shift of the Ages"
Jack Allis is a teacher of personal growth and awareness in private practice from Little Okauchee Lake, Wisconsin. He works with individuals, both in person, by telephone, and over the Internet. He also conducts seminars and workshops, and he is an author. In addition to Infinity's Flower - A Tale of 2012 & The Great Shift of the Ages, he has written two other novels, Infinity's Children and Masters of Destiny. He has also written numerous articles that have been published in various publications and websites, as well as in his popular free quarterly newsletter. Jack's work echoes the ancient wisdom that the mind, body and spirit work in harmony, and that we have the power to create health, happiness and magic in our lives, by learning how to develop the power of our awareness, which means connecting with the rhythm and flow of life, of which we are a fundamental part.
Jack currently travels the country, delivering his message to as many awakening souls as he can reach, with his groundbreaking presentation entitled 2012 & the Shift - Transforming Challenges into Blessings, which is also on DVD. Jack is also a personal growth and spiritual teacher. In his teaching work, Jack emphasizes the harmony of the body, mind and spirit, and he teaches people how to experience peacefulness and joy in their lives by reconnecting with life's vital energy and with the rhythm and flow of life, which is the true key of manifestation

Al Kay -Author, Planet X Researcher
BOOK: "Awaken the Sleeping Giant"
Al Kay isa retired college instructor (sociology, psychology) and former marriage and family counselor. He authored a book about the New World Order entitled "Awaken the Sleeping Giant". Al has done extensive research on the topic of Planet X. and has been interviewed on radio several times.
Google Search on Al Kay -CLICK HERE-