Opening comments and news from James
LIVE show this week
A GREAT intervew to watch:
http://www.tragedyandhope.com/interview-with-william-binney/
A 36-year veteran of America's Intelligence Community, William Binney resigned from his position as Director for Global Communications Intelligence (COMINT) at the National Security Agency (NSA) and blew the whistle, after discovering that his efforts to protect the privacy and security of Americans were being undermined by those above him in the chain of command.

The NSA data-monitoring program which Binney and his team had developed — codenamed ThinThread — was being aimed not at foreign targets as intended, but at Americans (codenamed as Stellar Wind) was destroying privacy here and around the world. Binney voices his call to action for the billions of individuals whose rights are currently being violated.

William Binney speaks out in this feature-length interview with Tragedy and Hope's Richard Grove, focused on the topic of the ever-growing Surveillance State in America.

On January 22, 2015: (Berlin, Germany) – The Government Accountability Project (GAP) is proud to announce that retired NSA Technical Director and GAP client, William "Bill" Binney, will accept the Sam Adams Associates for Integrity in Intelligence Award today in Berlin, Germany. The award is presented annually by the Sam Adams Associates for Integrity in Intelligence (SAAII) to a professional who has taken a strong stand for ethics and integrity. http://whistleblower.org/press/nsa-whistleblower-bill-binney-wins-prestigious-sam-adams-award

YouTube Link Info: https://www.youtube.com/watch?v=3owk7vEEOvs
---
Speaking of William Binney.... and Edward Snowden...
Citizen Four (trailer)
98% approval by critics, 90% by audience (rotten tomates) Academy Award Winner
In January 2013, Poitras (recipient of the 2012 MacArthur Genius Fellowship and co-recipient of the 2014 Pulitzer Prize for Public Service) was several years into making a film about surveillance in the post-9/11 era when she started receiving encrypted e-mails from someone identifying himself as "citizen four," who was ready to blow the whistle on the massive covert surveillance programs run by the NSA and other intelligence agencies. In June 2013, she and Greenwald flew to Hong Kong for the first of many meetings with the man who turned out to be Snowden. She brought her camera with her. The film that resulted from this series of tense encounters is absolutely sui generis in the history of cinema: a 100% real-life thriller unfolding minute by minute before our eyes.
I have not seen it, but will! My buddy taped it from HBO -James
---
5 years and STILL Striking Oil...
CAT POINT, Florida – It's almost five years after the Deepwater Horizon blowout and Bellona's Karl Kristensen and I have just struck oil on a beach in Cat Point, Florida – a state whose post-spill wounds have gone untreated for too long.

Guided here by Tampa area nurse and biologist Trisha Springstead – who is a one-person clearinghouse for the impact Florida sustained from the spill – we've shoveled through about 50 centimeters of freshly laid sand to discover a black, flakey layer of what Kristensen says is oxydized oil consistent with what poured out of BP's Macondo well off the west coast of Louisiana.

http://bellona.org/news/fossil-fuels/oil/2015-03-five-years-bp-blowout-floridas-oil-health-problems-evade-national-attention
---
Ministry of Truth?
"A Google research team is adapting [a] model to measure the trustworthiness of a [website] page, rather than its reputation across the web. Instead of counting incoming links, the [ranking] system – which is not yet live – counts the number of incorrect facts within a page. 'A source that has few false facts is considered to be trustworthy,' says the team…The score they compute for each page is its Knowledge-Based Trust score."
https://jonrappoport.wordpress.com/2015/03/01/breaking-google-gives-new-meaning-to-orwellian/
---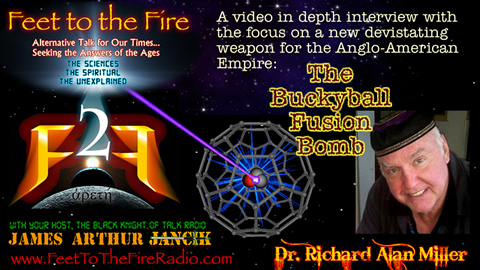 https://www.youtube.com/watch?v=SUKr1B7tlcI
Also, here is the downloadble data zip with documents from the discussion.
UPDATE: www.phys.org just posted:
http://phys.org/news/2015-03-buckybomb-potential-power-nanoscale-explosives.html
Also new PDF by Dr. Richard Alan Miller on the Buckeyball Bomb HERE