Opening comments and news from James
LIVE Show Tonight
We are live tonight. I have taken a couple days off to finish my taxes and make progress on the studio re-config; something that, after several weeks, is yet to start! But since I will not have to rise at the wee hours of Monday morning, and work for 12-4 hours, I can do a live show tonight.
I will also pull a basic core of equipment out to the side, so to speak, so I can do shows while I reset the equipment. It has been too long. Thanks to those who have written emails during this time off of encouragement and"Hurry back! We miss you!" :-)
---
I do have the new board! It is perfect and good quality in like new condition. And I got it at a great price! It is the Allen & Heath WZ20s.
I also have the sound absorbing foam from Next Acoustics.
And I expanded my Carver Hi-Fi stereo to a to a 5.1 system by adding a Carver AV-63 (3 channel amp), repairing my other 2 Ohm Speakers for a total of 4 and adding a Center Channel, and again for a great price!
All I need to do it unplug and unstack EVERYTHING and reassemble it in a smarter way. Weeded out old stuff along the way.
Here is a chronicle of the history of building this studio. LINK I will have to update it after this.
---
I did finally finish the video annotating/edit of the Oct 12th 2014 live (video) interview with Dr. Richard Alan Miller. I am rendering it as I type and will be uploaded later tonight, though it might take a day or days to upload. it is almost 3 hours long, and in 720p HD.
It is my favorite interview with Richard to date. I added as much as I could as far as visual overlays when possible/appropriate. You will really get to know and enjoy Miller, the man with his facial expression and laughing as he blows one's mind with his insights, both as a genius and feel the love of a genuine human being.
As much as we tried, we did wander off topic, but, I did not edit out those little excursions and they too contained insights for the taking. This is not a cleaver, fast passed edited production, nor is it filled with a serious of pre-loaded questions that are sterile and disconnected. It is a flowing heart to heart talk which I thoroughly enjoyed, and trust you will do. Be prepared to pull up a chair and relax for a journey.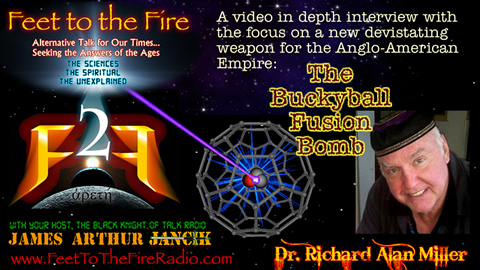 The main thrust of the talk is on the use of fullerenes (Carbon 60) as a weapon by placing deuterium and/or tritium within the symmetrical ball structure, which is the hardest substance on earth, and exciting the heavy water molecules within until they implode causing fusion. This in turn creates a plasma of extreme energy. And these Fullerenes are lined together in cords called nanotubes which can be made into any structure and combined, release HUGE amounts of plasma energy effectively vaporizing anything and everything in it's reach and leaving no traditional forensics, such as radiation or casings. Just a path of total destruction.
Also talked about is the wonderful work done with fullerenes as an anti-oxidant and toxic remove 2nd to nothing seen before.
In in true Miller style, many things tangent and frankly off topic are mixed in for a fascinating interview.
Will post the link as soon as it is available or check the YouTube Channel in the days ahead.
I am currently uploading, but, this will be the link when done:
https://www.youtube.com/watch?v=SUKr1B7tlcI
Also, here is the downloadble data zip with documents from the discussion.
UPDATE: www.phys.org just posted:
http://phys.org/news/2015-03-buckybomb-potential-power-nanoscale-explosives.html
Also new PDF by Dr. Richard Alan Miller on the Buckeyball Bomb HER