Opening comments and news from James
Live Show Tonight
It looks like my brother has beat bacterial spinal meningitis! Thanks to all the prayer and well wishes! He sends his thanks as well. If all goes well, that can finish up the original surgery and install a drain from the deflated cyst to the abdominal to allow drainage so it will not grow back. Still lin question is why the fluid is "leaking"... but this will fix the ramification while they ponder.
---
Erik Snyder's Fundraiser
https://www.giveforward.com/fundraiser/rjz6/erik-s-brain-injury-recovery-fund
---
So far, there are two front-runners in the contest mentioned further down the page. But no one has named all the pics/guests yet. Will announce a winner in the 12th anniversary show Jan 4th, 2015.
---
I did record a new interview Saturday, Nov 22 2014 with Historian and Author, Robert C. Valentine on a special triangulation of prophetic events that put us in the "End Times" like no other theory I have heard. I hope to have it for the radio in a week or two, (listen to the Dec 18th 2005 show Part 1 & Part 2 on his earlier version of the book, Alert for the Times: The Book of Secrets) and perhaps YouTube Video...
... if I EVER finish the marathon production tasks of the latest Rich Miller Interview Video. I have had to have Richard back to add more comments (about 45 mins worth!) then was broadcast on the October 12th 2014 Radio Show to further discussing things I found on the post-production research. The information contained therein is legion!
---
F2F Contest Picture. First one to name all the faces of past guests on Feet to the Fire over the last 11+ years in this pic blow will win a $100 gift card. If no one names them all, the one who names the most with win a $75 card. All were guests, and some are no longer alive.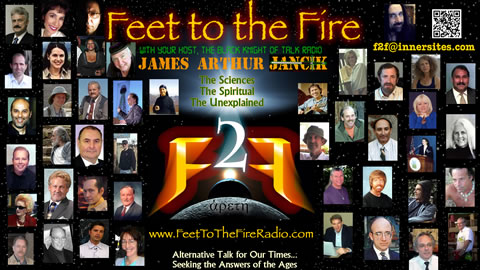 Click on the Picture for a larger version. Please, no facial recognition software :P