James' Opening Comments, Announcements & News
Back With Black!
I have canceled two weeks of live radio and been bedridden in great pain after having my back "go out" when driving (not because of anything I did; it "goes out" from time to time... but NEVER like this). I drove for 1500+ miles with utter agony. It took as much as 90 mins to get out of the bed to drive again. Took a week off and lie on my back. I assumed I needed back surgery, which would bankrupt me, as I was refused health care coverage.
But, there is good news. I went back to work this week with (reasonable) back discomforts which diminished as the week went on. The live radio shows will resume this weekend.
What happened to bring this turn around? Not sure but think it was several things. I wish to thank listeners who wrote with suggestions, prayers, and healing energies. I had several regular guests send Reiki healing. I have many hours to examine and learn lessons and discern messages this event brought with it. I observed my fears and beliefs in action. I accepted what this event brought and taught. I visited a Acupuncturist/Chiropractor who did several things to me.
Just a note to explained why I had "dropped of the face of the earth" as one email put it, and that I am back and hopefully grown from the experience.
Reach for the Skies.... Within!
-James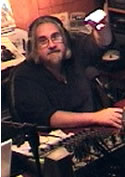 Les Visible is under the weather and will return next week.
James Arthur Jancik
Will address blistering comments made at the end of Alex Jones show by Steve Pieczenik, about the State of Israel and the "spin" the Zionists put on the Holocaust to bring about their position today, pulling the strings within nations like the USA. Comments you will SELDOM here on Alex Jones show, and you can tell he was awkward about it.
Hear the full Pieczenik segment, edited only to remove breaks, and unrelated announcements.(MP3)
An Attempt/Experiment In Group/Distant Healing/Energy
James will take a name from email each week, and work with listeners to send energy to the person for their self-healing. Please think of this person this week, and visualize sending healing, love, energy.
This Week's Focus:
Serena Streetman has relapsed. Cancer has returned breast
Phil Partridge prostrate cancer
Prayers for David Witt who had a stroke and is on life support.
-A1H
Download this weeks segment alone to share with others! (D/L MP3)
(If your browser has trouble with direct linked MP3's. Try THIS LINK)
Music for Healing Segment: Liquid Mind - Ambience Minimus - Zero Degrees Zero (www.liquidmindmusic.com)
Lamont Wood, Author- "Out of Place in Time and Space"
The book is a collection of anecdotes that indicate that the consensus definition of sequential time is flawed, since there are objects, beliefs, practices, and knowledge that show up well before youʹdexpect them to. The moons of Mars were described 151 years beforthey were discovered, the Apollo Program about a century before it took place, and the Pacific War 16 years before it began. Therereligious painting in a museum in France, done in 1460, where the Christ Child is depicted as playing with a flying toy helicopter. The Roman Army was once defeated in battle by an assemblage of machines that then drop from history
Each example has an individual explanation, and there is no need to invoke irrational forces. But, admittedly, some of the explanations are pretty weak, and taken as a whole they indicate that there is something about time that we are missing.
The book invokes the term ʺreverse anachronismʺ to describe many of the anecdotes. It presumes that a conventional anachronism is a modern phenomena incorrectly depicted as being present in the past (like people in films about Ancient Rome who are speaking English.) A reverse anachronism, therefore, concerns modern phenomena that were actually present in the past. As soon as you start looking for them, you find them.
And there are some things that are simply puzzling, like the Voynich Manuscript, a hand‐made medieval illuminated book written in no known language. Such examples indicate that there may be reverse anachronisms from the future, and we will not understand then until they come into synch with the present.
As a journalist and freelance writer of wide experience, Lamont Wood is familiar with the sometimes arbitrary distinction between cause and effect, and the subsequent gulf between what happens, what is experienced, what gets written, and what is understood. He has been freelancing for nearly three decades, writing for publications ranging from American Heritage to trade journals in Hong Kong. He has also been a newspaper reporter, a publicist, and a welder. He lives in San Antonio, Texas.