James' Opening Comments, Announcements & News
A few days after the cleanup of the Chicago Blizzard of 2011
Picture of James' home (PIC1)
Next week we start having a news cast at the top of the hour put together by a listener: http://ofthelight.uni.cc
Here is this weeks news, that did not get aired (LINK)


Les Visible - Socio-Political-Metaphysical Comentary
Les Visible is a writer and recording artist. He has had a lifelong love affair with the Hermetic Sciences and the Martial Arts. He is a seasoned traveler in psychedelic realms and prefers the Devic Kingdom over the suffocating confinements of the Sub-Matrix. Along the way he has matriculated from the military to prisons and the maximum security wards for the criminally insane. Each month. Les will share a passionate slice of his kaleidoscope of consciousness. He lives in various places in Europe with his wife Susanne and his memories.
http://smokingmirrors.blogspot.com/ ==== www.lesvisible.com
Listen to Les' past F2F segments HERE
An Attempt/Experiment In Group/Distant Healing/Energy
James will take a name from email each week, and work with listeners to send energy to the person for their self-healing. Please think of this person this week, and visualize sending healing, love, energy.
This Week's Focus: An Unnamed Lady's battle with life threating conditiion
Download this weeks segment alone to share with others! (D/L MP3)
(If your browser has trouble with direct linked MP3's. Try THIS LINK)
Music for Healing Segment: Liquid Mind - Ambience Minimus - Zero Degrees Zero (www.liquidmindmusic.com)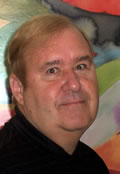 Jim Shultz -Psychic Commentaries
Personal friend of James for years, Jim Shultz, will be here each month for free readings for F2F Listeners and commentaries and teaching about psychics and psychic energy
To arrange a private consultation with Jim, call 708-448-1435
Peggy Kane -Reverse Speaking & EVP
Peggy Kane is an artist, teacher and caregiver for developmentally-disabled adults, and an avid listener and recorder of EVP and Reverse Speaking. Her interest grew while Co-hosting a Public Access UFO TV show, called UFOAZ with Ted Loman and Jim Nichols. The topics covered all levels of the Paranormal, UFO phenomena, Conspiracies etc. The show later became Off the Record and finally The Cutting Edge with Jim Roger. During the 12 years of interviewing many in these various fields, she found the interviews with Mark Macy, discussing EVP (electronic voice phenomena) and ITC (Interdimensional Transcommunication, pictures of spirit people on computers, videos etc.) fascinating and began to do her own research. If one wants to know about what happens after death, why not speak to those on the other side directly?
She also had the opportunity to interview David Oates, Founder of Reverse Speech and realized that EVP reverses along with all other recorded speech. She began the journey, often leading down the rabbit hole, listening to uncover the workings of the Matrix in which we live. She has, over the past 9 years, collected approximately 100,000 sound files of reversals and evp. It is a compelling saga involving humans, Pleiadians, Sirians, Reptilians, demons, the Astral world, space, time and much more. Ultimately, all of this leads back to understanding the true nature of The One God.
I have asked Peggy back to talk about her reversal (no pun intended) from a future of doom and gloom derived from her Reverse Speaking analysis, to a future of love and hope right around the corner. -James
Peggy Kane no longer maintains a blog or website, but has MANY videos on YouTube.
(CLICK HERE for Google Video Search)
There is an unoffical forum, dicussing Peggy Kanes work:
http://evpreversespeaking1.proboards.com
If you would like to download a.ZIP file containing all the Reverse Speaking and EVP files,
CLICK HERE (~2 megs)