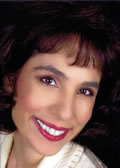 Dr. Rita's Soul Healer Moment
One a month, Dr. Rita Louise will examine a Human emotion, and it's positive and/or negatives affects on the human body, mind and soul, and will offer tips to alter the energy patterns and thus it's course, which often ends in chronic illness.
This Months Topic: Living in the Moment
www.soulhealer.com
Just Energy Radio
Applied Energetics Institute
An Attempt/Experiment In Group/Distant Healing/Energy
James will take a name from email each week, and work with listeners to send energy to the person for their self-healing. Please think of this person this week, and visualize sending healing, love, energy.
This Week's Focus: Kerry (returning cancer)
Download this weeks segment alone to share with others! (D/L MP3)
(If your browser has trouble with direct linked MP3's. Try THIS LINK)
Music for Healing Segment: Liquid Mind - Ambience Minimus - Zero Degrees Zero (www.liquidmindmusic.com)


FATE Magazine Presents:Each month we will hear from contributing writers from FATE magazine on themes and subjects covered in FATE Magazine!
---
Frank Joseph -Author, Ancient Civilazations Researcher
This time, Franks talks about The Crystal Skull

Stan Tenen- Geometry of an Universal Language of Gesture
STAN TENEN is the Director of Research for the Meru Foundation of Sharon, Mass. With a B.S. in Physics (1963) from Brooklyn Polytechnic Institute, Mr. Tenen has designed and produced optical and electronic equipment for doctors and surgeons, and holds several patents. In 1968, while examining the Hebrew text of Genesis, Mr. Tenen noticed what appeared to be a pattern in the arrangement of the letters. This observation, which prompted thirty years of research into the history and tradition of the text, has led to a meaningful understanding of traditional teachings in a modern context. Mr. Tenen has presented his works to scientific and religious scholars throughout the United States and Israel, and has received praise for his insight, depth of knowledge, and lively presentations.
An Introduction to the Meru Project
"The Meru Project has discovered an extraordinary and unexpected geometric metaphor in the letter-sequence of the Hebrew text of Genesis that underlies and is held in common by the spiritual traditions of the ancient world. This metaphor models embryonic growth and self-organization. It applies to all whole systems, including those as seemingly diverse as meditational practices and the mathematics fundamental to physics and cosmology...Meru Project findings demonstrate that the relationship between physical theory and consciousness, expressed in explicit geometric metaphor, was understood and developed several thousand years ago."