James' Opening Comments, Announcements & News
James is moving. At first, to a temporary location while work is done on the final destination. Sunday, March 29th, James will replay Vintage F2F shows until the temporary studio setup is completed. This should only be 1-3 weeks.
Many have never heard these shows, as some are not in the archives. And if they are, they are in an edited, lower quality format. These will not be offered for download after the show, but only played in the live and replay time slots.
The final move will be into a custom built (by James) sound-proof audio room,complete with his high-quality analog machines, which has been in his mind for years. This is an answer to prayers and projections!
We are sorry for the break in live action, but, these few weeks of invested time will yield years to come of improved environmental quality, which, should translate into the shows! :-)

Les Visible- Smoking Mirrors
Socio-Political Comentary
Les Visible is a writer and recording artist. He has had a lifelong love affair with the Hermetic Sciences and the Martial Arts. He is a seasoned traveler in psychedelic realms and prefers the Devic Kingdom over the suffocating confinements of the Sub-Matrix. Along the way he has matriculated from the military to prisons and the maximum security wards for the criminally insane. Each month. Les will share a passionate slice of his kaleidoscope of consciousness. He lives in various places in Europe with his wife Susanne and his memories.
http://smokingmirrors.blogspot.com/
An Attempt/Experiment In Group/Distant Healing/Energy
James will take a name from email each week, and work with listeners to send energy to the person for their self-healing. Please think of this person this week, and visualize sending healing, love, energy.
This Week's Focus: Shella Issac (throat aera tumors)
Download this weeks segment alone to share with others! (D/L MP3)
(If your browser has trouble with direct linked MP3's. Try THIS LINK)
Music for Healing Segment: Liquid Mind - Ambience Minimus - Zero Degrees Zero (www.liquidmindmusic.com)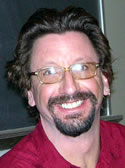 Dr. Richard Doyle, Ph.D. -Consciousness Researcher
Professor of Rhetoric and Science Studies
Penn State University
The Noosphere, Consciousness and Us
Richard Doyle earned his Ph.D. in Rhetoric at UC Berkeley. He was the Mellon Post Doctoral Fellow in History and Social Science of the Life Sciences at MIT in 1993. Professor of Rhetoric, Doyle holds appointments in English, Science Technology & Society and the College of Information Science and Technology at Penn State University and was Visiting Associate Professor at UC Berkeley, Department of Rhetoric in 2003. Doyle teaches courses in the history and rhetoric of emerging technosciences - sustainability, space colonization, biotechnology, nanotechnology, psychedelic science, information technologies, biometrics - and the cultural and literary contexts from which they sprout. Professor Doyle has published two books: On Beyond Living: Rhetorical Transformations of the Life Sciences(Stanford, 1997) and Wetwares:Experiments in PostVital Living( Minnesota, 2003) - in a putative trilogy about emerging transhuman knowledges. These knowledges and practices, linked to molecular biology, artificial life, nanotechnology, psychedelic and information technologies render distinctions between living systems and machines frequently dubious and often indiscernible. This excited and confused rhetorical membrane between humans and an informational universe nonetheless broadcasts a clear message: humans, in co-evolution with the technical matrices transforming the planet, find themselves in an evolutionary ecology that is as urgent as it is experimental.
Richard Doyle composes and teaches in the esoteric traditions of rhetoric, science fiction and emerging technoscience. His attention is currently distributed across and focused on a novel about the life of Philip K. Dick, a scholarly book about psychedelics, practices of sustainability, and a book proposal about telebiometrics. Please contact Doyle (aka mobius) at the above link with rants, icaros, visions, comments or queries, and/or add them to a Wiki.
Continuing his collaborative work on the "transhuman imperative", Doyle ( aka mobius) has now completed the trilogy with a scholarly book about archaic and contemporary psychedelic media technologies and the evolution of mind: The Ecodelic Hypothesis: Plants, Rhetoric and the Evolution of The Noösphere, currently in press with University of Washington. Other current projects include a novel about the life of Philip K. Dick and a book, Admixtures: Dialogues After Genomics with Mark Shriver. The Admixtures Project has grown The Penn State Center for Altered Consciousness, currently investigating the genetics and phenomenology of legally altered consciousness with the help of a flotation tank.Doyle directed the Penn State Composition Program from 2004-2006, and serves as Expert, Wetwares and Human/Machine interaction for international organizations and a volunteer to the Penn State Center for Sustainability More about mobius' work and teaching can be found by browsing his web site.
http://biotelemetrica.pbwiki.com/Feet-To-the-Noosphere!
http://biotelemetrica.pbwiki.com/DoyleBio
http://www.personal.psu.edu/faculty/r/m/rmd12/
Find Other F2F Shows with Richard Doyle