NOTE: Due to unnoticed changes in the nameserver of feet2fire.com the Healing Segment download links became invalid. This has been fixed. Thank you listener "ZillaFan" for letting us know.
---
An Attempt/Experiment In Group/Distant Healing/Energy
James will take a name from email each week, and work with listeners to send energy to the person for their self-healing. Please think of this person this week, and visualize sending healing, love, energy.
This Week's Focus: Mary Jean and Charlene (donor and recipent Kidney Transplant)
Greetings James,
On Tuesday February 3rd, two of my cousins are undergoing kidney transplant surgery; Mary Jean Buckman is the donor & her older sister Charlene Renda is the recipient. I would really appreciate you adding them to tonight's distant healing experiment to ensure that evrything goes well.
Warmest Regards,
Jeffrey
Download this weeks segment alone to share with others! (D/L MP3)
(If your browser has trouble with direct linked MP3's. Try THIS LINK)
Music for Healing Segment: Liquid Mind - Ambience Minimus - Zero Degrees Zero (www.liquidmindmusic.com)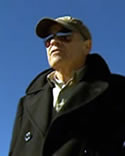 Bill Birnes World of UFO Investigation!
Each month we will talk to Investigator, Bill Birnes about what goodies await us in the latest UFO Magazine and the History Channel series: UFO Hunters

Jim Marrs -Author, Paranormal Investigator
Book: "Above Top Secret"
JIM MARRS can justifiably be considered the world's leading conspiracy author, with multimillion bestsellers like "Alien Agenda," "Rule by Secrecy," and the book that Oliver Stone used as a basis for his JFK movie, "Crossfire: The Plot That Killed Kennedy." Now Marrs has allied with the web's most popular conspiracy forum to investigate everything from chemtrails to the Nazis' Antarctic base, moon landing hoaxes to UFOs, God as an alien to the end of the world in 2012.

AboveTopSecret.com is the Internet's largest and most popular discussion board community, with more than twelve million page views per month. It is dedicated to the intelligent exchange of ideas and debate on a wide range of "alternative topics" such as conspiracies, UFOs, paranormal, secret societies, political scandals, new world order, terrorism, and dozens of related topics. AboveTopSecret's popular podcast is downloaded tens of millions of times per month and will become a nationally syndicated radio show prior to the publication date of the book.

Marrs brings his rigorous journalist's credentials to bear on these topics and more, asking (and often answering) the essential who, what, where, why, and how questions in compelling, page-turning fashion.
ALSO:
We can take questions on any topics that Jim has covered! Now is the time to get your question in, directly to the super sleuth of the under-the-media-radar world of UFO and Conspiracy.