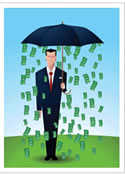 John Sakowicz -The Truth About Money
The Shadow Banking System & The Shadow Government
The shadow banking system or the shadow financial system is largely formed by non-bank financial institutions that like banks, borrow short and in liquid forms and lend or invest long in more illiquid assets. They are able to do this via the use of credit derivative instruments which allow them to evade normal banking regulations, e.g. those related to specifying ratios of capital reserves to debt.
As they are not depositary institutions, these entities do not have direct or indirect access to the central bank's lender-of-last-resort support. In conditions of market illiquidity, they could go bankrupt if unable to refinance their short-term liabilities.
The shadow banking system has been blamed for aggravating the subprime mortgage crisis and helping to transform it into a global credit crunch.
John Sakowicz is a cofounder of the multibillion dollar, offshore hedge fund, Battle Mountain Research Group, and has workded for UBS, Dean Witter, Spear Leeds Kellogg, Merrill Lynch, and Alex Brown & Sons.
He currently is CEO of Templar Advisors, an offshore advisory domiciled in Malta.
Sakowicz writes for the 130 newspapers of the alternative weekly press. His articles are archived at: www.altweeklies.com.
Sakowicz' is also host of "The Truth About Money", at KZYX. His shows are archived at: www.ukiahvalley.tv.
Topics up for Duscussion tonight:
* the $500 trillion market of swaps and derivatives,
* securitized debt, especially CMOs, CDOs, and SIVs,
* prime brokers,
* hedge funds,
* private equity funds,
* UBS and other Swiss banks, and their clients' "undisclosed accounts",
* offshore banking,
* Cyprus, the "new and improved Cayman Islands",
* the role of banking technology, i.e. Alternative Trading Systems (ATSs) and Electronic Communication Networks (ECNs),
* the shadow government,
* the CIA,
* the Foreign Relations Council,
* Nelson Rockefeller,
* Mossad and other intelligence agencies.
* Maurice "Hank" Greenberg, the poster boy of the shadow banking system,
* AIG, the model shadow financial institution,
* William Gross, of PIMCO, the whistleblower on the shadow banking system,
* George Soros, the Bronfman family, Henry Kissinger, Alan Greenspan, and other key players in the shadow banking system,
* the Illuminati and New World Order.