An Attempt/Experiment In Group/Distant Healing/Energy
James will take a name from email each week, and work with listeners to send energy to the person for their self-healing. Please think of this person this week, and visualize sending healing, love, energy.
This Week's Focus: Barb Wright (Diverticulitis) & Roland Dunn (colon cancer)
Download this weeks segment alone to share with others! (D/L MP3)
Music for Healing Segment: Liquid Mind - Ambience Minimus - Zero Degrees Zero (www.liquidmindmusic.com)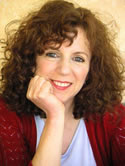 Dr. Natalie Reid, Ph.D -Author
BOOK: 5 Steps to a Quantum Life
Quantum physics shows us that we get what we focus on, that to which we pay attention. To change something in your life, therefore, focus on what you want. You can change anything and have anything: a new job, a relationship, a car, more happiness, a new home, better health, and success in any and every aspect of your life, all by using the secrets of quantum physics and the power of your own mind!
Quantum physics sounds like rocket science, but it is simply the study of movement inside atoms - and it's atoms that make up the molecules of everything in our our physical universe. Subatomic particles - electrons, for example - move around inside atoms in totally surprising and mysterious ways, and best of all, those tiny particles actually respond to people who study them! In fact, you can't observe anything in the subatomic world without changing it - proving there are no observers in life, only participants.
The basic concepts of quantum physics are not at all difficult to comprehend, and anyone can use the secrets behind the ideas - whether you understand them or not. The exciting thing is that the secrets you can learn from quantum physics can make your life truly magical.
Natalie Reid is the author of 5 Steps to a Quantum Life: How to Use the Astounding Secrets of Quantum Physics to Create the Life You Want. Her book has received critical acclaim and, according to Midwest Book Review, is "a seminal study and guide that can be readily accessed by any general reader." Natalie, who holds a Ph.D. in psychology, studied quantum physics for her doctoral program. She has a private practice where she incorporates 30 years experience in psychology, coaching, meditation, and the mind-body connection. She has served on several corporate management teams including Bank of America, Progressive Corp., Charles Schwab and Fair, Isaac. Natalie has talked about her work on TV, radio and in print. She lives and works in the San Francisco Bay Area