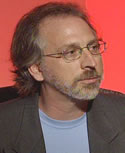 Jon Kelly's Secret Message Report
Jon Kelly explores the evidence for secret messages hidden backwards in the speech of top newsmakers. Hear unconscious communications from the people who make headlines in sports, entertainment, business, politics and the unexplained. Hear the stories before they happen - Jon's messages anticipate major news events including the Iraq War, confession of the BTK Killer, and Oprah Winfrey's confrontation with James Frey. "PHENOMENAL" - Fox News, "#1 Nielsen Ratings" - CBS WOIO-TV
This Month: E. Howard Hunt, Kent State Clip, Phill Spector, Jimmy Carter and more.
An Attempt/Experiment In Group/Distant Healing/Energy
James will take a name from email each week, and work with listeners to send energy to the person for their self-healing. Please think of this person this week, and visualize sending healing, love, energy.
Tonight's Focus: Don Hogue (Liver better now, but cancer in hip .sholder & rib) Stephenie (Lung regrowth)
Hi James,
Just received this weeks newsletter and noticed that you didn't have anyone listed, so I wanted to remind you about Don Hogue and give you an update on his condition. As I had previously mentioned, after our first session with Don in the healing energy segment, the doctor reported that the big tumor on his liver "mysteriously" had reduced in size by half by the following Tuesday morning. Don had said that his pain had greatly reduced too. But because of the cancerous growths in the bones in his shoulder, hip, and rib the doctors started him on Chemotherapy last week, which really zaps his energy. Since he started dropping weight rapidly the doctor gave him some medical marijuana to boost his appetite, which seems to help. He gained 4lbs. this week and his blood seems to be stabilizing. Don is starting to awaken to the spiritual aspects of life too, which is a good thing. Anyway, he requested that I ask you for another go around since he has seen such a dramatic result from the first healing energy treatment.
-Jeff
Music for Healing Segment: Liquid Mind - Ambience Minimus - Zero Degrees Zero (www.liquidmindmusic.com)

Bill Sweet -Author, Researcher from Spindrift Research (180 mins)
BOOK: A Journey Into Prayer: Pioneers of Prayer in the Laboratory
Bill Sweet was always interested in how consciousness and prayer relate to science and religion. A natural connection between like-thinking people resulted in his involvement in the research of prayer and consciousness at Spindrift Research. Bill became a president of Spindrift Research. Brought up on the North Shore of Chicago, Bill graduated from New Trier High School and Illinois State University with a major in communications. He was president of an entertainment booking agency in Chicago.
Bill's avocations include being an investor, an audiophile, and a ham radio operator. He resides in Mount Prospect, Illinois. A favorite quote of Bill's is by Charles Steinmetz, the father of modern electricity. "Someday...the scientists of the world will turn their laboratories over to the study of God and prayer and the spiritual forces which as yet have hardly been scratched."
Bill and James wander thru various topics centered around Mind Control and Free Thinking.